News 2015
In light of the continuing influx of refugees in the Mediterranean region, several international organisations have published guidelines regarding the rescue of refugees at sea:
This 16 page guideline gives an overview of the legal requirements of rescuing refugees as well as practical information for masters, shipping companies and maritime rescue coordination centres (MRCCs).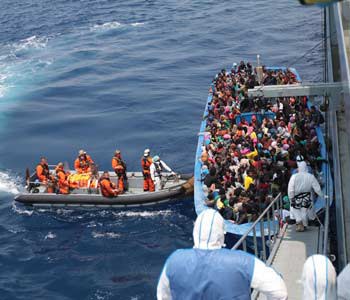 2. Large Scale Rescue Operations at Sea
At 28 pages this guidance contains practical notes on the rescue of large groups of refugees on a seagoing vessel. A checklist for shipping companies and masters as well as coloured safety notes to put up on board supports the crew with the rescue of refugees and their accommodation on board.
3. Recovery of persons from the water
This 6 page guideline helps mostly shipping companies to develop appropriate measures when letting refugees come aboard. Among other things it contains practical notes on necessary equipment.
Especially for crew members working on board a German-flagged ship, who had to watch shipwrecked persons or refugees drown, support is offered: The "Trauma-Lotsen" (trauma pilots) of the occupational accident insurance body (Berufsgenossenschaft) take care of seafarers with trauma.
Medical equipment
The German flag has updated their requirements for medical equipment on seagoing merchant vessels. In addition to equipment lists, the "State of medical knowledge" includes advices for storage of drugs and medical devices. Ship owners have to implement the amendments before next annual control of medical equipment on board.

You can find additional information in our heading "Maritime medicine".