Port state control inspections of German-flagged ships abroad
German-flagged ships are not only monitored by the German flag state for compliance with requirements regarding ship safety as well as working and living conditions on board, but also by port state control inspections in foreign ports. Port state control officers of the state in which a port is situated check whether a foreign-flagged ship does actually comply with the international requirements. In case of deficiencies a port state control officer can request them to be rectified immediately or by a deadline before the ship is allowed to leave the port. You will find further information in our section on "Port State Control".
How to proceed in case of deficiencies raised during port state control inspections abroad?
In case of disagreements or complaints regarding deficiencies just contact the ship safety division of the BG Verkehr by e-mail (ism@bg-verkehr.de) to describe the situation and to provide an account from your point of view. Having established an overall picture of the situation the ship safety division will, if necessary, contact the relevant port state control authority.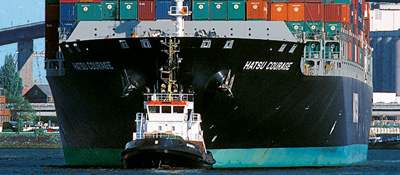 Detentions
According to German flag state requirements the ship safety division of the BG Verkehr must be immediately informed on any detention of German-flagged ships, irrespective of whether the detention appears justified or not.
Should a shipping company consider a detention to be unjustified, there are two options for appeal
1. the shipping company appeals on its own account
In principle, the shipping company can appeal on its own account. Generally, information about the deadlines and procedures of appeal are published on the relevant websites of MoUs, which can be found in our "Maritime Links".
2. The ship safety division takes action
In cases where the shipping company does not wish to appeal, but disagrees with the detention, it can file a petition to the ship safety division of BG Verkehr (ism@bg-verkehr.de). The ship safety division will then assess the detention and will, if it appears unjustified, request the port state authority to reconsider its decision. If the "request to reconsider detention" is rejected, some MoUs allow the application for a review panel to clarify the circumstances causing the detention. Please find further information regarding the individual review panels as download at "Safety ∙ Security - Safety Management - Review Panels".