Deutsche Rentenversicherung Knappschaft-Bahn-See
Regionaldirektion Nord
Millerntorplatz 1
20359 Hamburg
Guido Bergel
Phone: +49 40 30 388-19 12
Mail:
guido.bergel@knappschaft.de
Foreign seafarers
Basic principle: German social security for European seafarers on board ships flying German flag
European seafarers (= from EU/EEA states as well as from the United Kingdom) on board ships flying the German flag are insured in the German statutory social insurance in general. Seafarers from EU or EEA states as well as from the UK are therefore on equal terms as German seafarers.
However, European seafarers can apply for a so called A1 form from the national social security authorities, if they are already covered by the social security of their home country in the EU or in the UK. In this case the seafarer is not subject to German social security.
Regulation (EC) No 883/2004 and implementation Regulation (EC) No 987/2009 as well as the trade and cooperation agreement between the EU and the UK ensure that a double insurance is avoided and, for example, a seafarer's acquired pension rights are secured even when working in European countries (ships under EU or UK flag).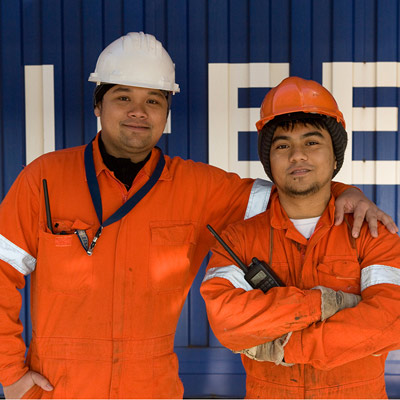 As a rule no German social security for non-Europeans
Non-Europeans without place of residence in the EU, EEA or Switzerland who work on ships under German flag are exempt from the membership in the statutory health, nursing care and unemployment insurance.
In principle, pension insurance and the social insurance for seafarers are mandatory insurances for these seafarers. However, the obligation to insure can be lifted if the shipowner applies for it at Deutschen Rentenversicherung Knappschaft-Bahn-See (DRV-KBS) within 3 months of the foreign seafarer entering into employment. If the application is submitted after that, the exemption from pension insurance and the social insurance for seafarers of the affected seafarer will only start from the date of receipt of the application.
These provisions for non-European seafarers apply to all seagoing vessels under German flag – whether they are listed in the German shipping register (first register) or also listed in the German International shipping register (GIS, second register).
Further information about social security for non-European seafarers on German-flagged ships is given on the website of DRV-KBS.
Germany's social security agreements with other states
Germany has entered into bilateral social security agreements with numerous states. These agreements also affect the insurance of foreign seafarers onboard ships under German flag. Some agreements, for example, do not allow an exemption from the German health insurance or the relief from pension insurance on application.
The following table lists if an exemption from insurance of the individual insurance branches exists as well as if an exemption is possible from the German pension insurance:
State
Exemption from insurance:
Exemption from obligation to insure in pension insurance
Health insurance
Nursing care insurance
Unemployment insurance

Albania

yes

yes

yes

no

Australia

yes

yes

yes

no

Bosnia and Herzegovina

no

yes

no

no

Brazil

yes

yes

no

no

Chile

yes

yes

no

no

China

yes

yes

yes

yes

India

yes

yes

yes

no

Israel

no

yes

yes

no

Japan

yes

yes

no

no

Canada

yes

yes

no

no

Korea

yes

yes

no

no

Kosovo

no

no

no

no

Morocco

no

yes

no

no

Moldova

yes

yes

yes

no

Montenegro

no

yes

no

no

Northern Macedonia

no

no

no

no

yes

yes

yes

yes

Quebec

yes

yes

no

no

Serbia

no

yes

no

no

Turkey

no

yes

no

no

Tunesia

no

yes

yes

no

Uruguay

yes

yes

yes

no

USA

yes

yes

yes

no