Shipowner has to pay his seafarers regularly
According to Standard A2.2, the Maritime Labour Convention stipulates that seafarers have to receive their wages and the corresponding payslip at least monthly. German law regulates the regular payment of wages in the "Seearbeitsgesetz" (maritime labour act).
Seafarers are entitled to have their wage or a part of it transferred to family members or other people. If the wage is paid in a different currency, the shipowner has to adhere to the official currency exchange rate.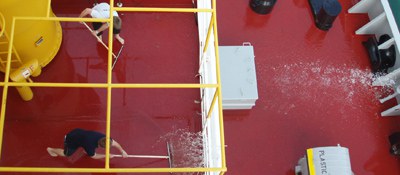 Application of tariff wages
Shipowners operating ships under German flag are not obliged to pay wages according to tariff agreements to seafarers. Tariff wages must only be paid, if:
the shipowning company is a member of the tariff community of the German Shipowners' Association (VDR) and individual seafarers are members of the ver.di trade union (known as "double tariff"), or
the individual seafarer's employment agreement provides for the application of a tariff agreement.
Up to 16 weeks continued payment of wages in case of illness
If a seafarer is unfit to work due to illness or injury the shipowner must continue to pay wages for 16 weeks. On commercially operated seagoing ships under German flag the wages have to be paid in full for six weeks. From the 7th week the wages are reduced to the amount of the illness benefit paid by the statutory health insurance (70 per cent of the average wage, not more than 90 per cent of the latest net wages). Seafarers who are members of the German statutory health insurance receive the illness benefit from there.
Outstanding wages
If a shipowner or employer does not fulfil or only insufficiently fulfils his or her obligation to pay wages, crew memebers on seagoing ships under German flag have several options to take action, among which are the following: