Bundesamt für Seeschifffahrt und Hydrographie

Hans-Karl von Arnim

---
Assignment of frequencies:
Bundesnetzagentur

---
Webcode for this Content:
16381967
Maritime radiocommunication
Maritime radiocommunication enhances safety at sea
Maritime radiocommunication is an international mobile radio service. It enables radio traffic both terrestrial as well as via satellite:
to transmit private and official messages,
between shore based radio stations (coast stations/ coast earth stations) and ship based radio stations (ship stations/ ship earth stations),
as well as between ship based radio stations.
The maritime radiocommunication service contributes substantially to the safety of shipping and of ships' crews. Thanks to the Global Maritime Distress and Safety System (GMDSS) many lives have been saved. Radio stations on board of survival crafts as well as floating emergency position indicating radio beacons (EPIRBs) are parts of this network.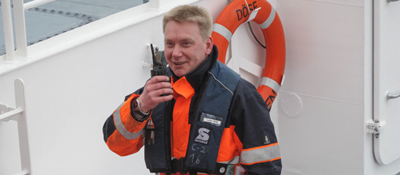 Checklist for maritime radiocommunication
Operators of a ship based radio station should observe the following:
Approval of the radio equipment in accordance with the Maritime Equipment Directive – MED  by a notified body,
Radio survey by the Bundesamt für Seeschifffahrt und Hydrographie (BSH) or by one of its recognized organisations in connection with the other surveys of the ship,
Assignment of numbers for the mobile maritime radio service (Maritime Mobile Service Identity - MMSI; call sign; ATIS) by the Bundesnetzagentur (Federal Network Agency for Electricity, Gas, Telecommunications, Post and Railway).