BG Verkehr / Dienststelle Schiffssicherheit
Einflaggungsmanagement
Brandstwiete 1
20457 Hamburg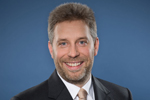 Christian Bubenzer
Phone: +49 40 361 37-600
Fax: +49 40 361 37-735
Mail:
christian.bubenzer@bg-verkehr.de
Advantages of the German flag
As a flag of quality the German flag offers, compared to other, flags many advantages for shipowners and seafarers:
Advantages of the German flag which speak for themselves!
Less idle times in ship operation
Quality and a high safety standard are top priorities under the German flag. The average age of merchant ships under the German flag is amongst the lowest worldwide. Seafarers on board of ships under the German flag are qualified and trained to highest standards. Shipping companies in Germany can rely on comprehensive service and consulting close by. The result: Idle times in ship operation are considerably reduced compared to other flags. A real boon for the shipowner.
Fewer port state controls
Internationally, the German flag is highly regarded as a flag of quality. The German flag regularly reaches top positions in the rankings of flag states – e.g.:
The performance statistics of the port state control regimes show deficiencies and detentions of ships under the German flag to be below average. With the new inspection regime (NIR) shipowners profit directly from the good performance of the German flag: Operating under a flag of quality and keeping a ship well maintained is rewarded with fewer port state controls.
High subsidies and reasonable fees
The Federal Government provides substantial financial support for the German flag. Owners of ships under the German flag profit from:
In addition 20 Million Euros are available for the promotion of maritime training by the foundation "Schifffahrtsstandort Deutschland". All promotion activities are consistent with European law.
Furthermore, the German flag raises no annual registration fees. As a shipowner you pay your fee to the shipping register once, when changing flag – after that no further registration fees are due. The costs of ship safety certificates are also favorable compared to other flags. This is not surprising considering that the German Flag State Administration does not seek maximum profit, – in this it is different from privately organized flag registers. We are not salesmen, but honest brokers.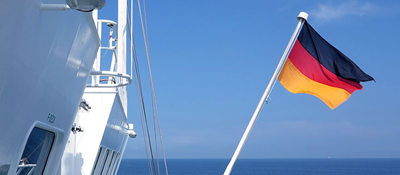 Comprehensive social security for seafarers
The German public social security system is worldwide unique – hardly any other flag state offers a comparable level of security. In times of staff shortages this is a real advantage.
In case of illness, accident or during retirement seafarers under the German flag benefit directly from this social security. Some examples:
We all are happy when there are no accidents at the workplace. However, knowing to be well covered for any eventuality gives peace of mind.
Reduced number of accidents at the shipboard workplace
Occupational health and safety has a long tradition under the German flag. From as early as the end of the 19th century the Berufsgenossenschaft (Accident Prevention and Insurance Association) has been working to improve occupational health and safety on board. Experts for occupational safety integrate shipboard and shore based operations. Shipping companies can make use of a comprehensive advisory service. Accident prevention is a major issue under the German flag.
Local customer service and quality
Being close to the customer is important to us. Working out of Hamburg, our experts of the flag state administration can get to the shipowners quickly. The Change of Flag Manager will gladly give advice on location. Nothing can replace a personal conversation after all.
English is the number 1 maritime language. Yet, isn't it sometimes more convenient to discuss matters in your native language, German?
Many of our colleagues worked at sea and know what they are talking about. Quality is to us: experience and expertise.
The quality of our work is verified on a regular basis. As administration for the German Flag, we are certified in accordance with DIN EN ISO 9001 (Certificate for Ship Safety Division and Certificate for BSH).
Shipping know-how of the German maritime cluster
The German flag is essential for maintaining the shipping know-how of the German maritime cluster. Training on board of ships under the German flag is ranked top-class internationally. Many German shipowners who appreciate the quality of German training employ German seafarers qualified here not only on ships under German flag, but also under foreign flags. In the long term, top level maritime training in Germany can only be sustained with seafarers employed under the German flag. By choosing the German flag you also contribute to maintaining the German maritime cluster with its unique shipping know-how.
Legal Certainty inland and abroad
Legal certainty is an important location factor. As a constitutional state Germany guarantees security in business activities especially in the maritime sector. The political framework is sound, social harmony in Germany is exemplary.
The concept of pacta sunt servanda (sanctity of contracts) is an essential prerequisite for long-term investments. In Germany independent courts and the administration ensure a stable framework.
Germany has signed off a bilateral shipping convention together with over 80 states. With this, maritime traffic with these partner countries has been facilitated considerably:
Free passage to international transport markets,
Favored handling of ships flying the German flag in the ports,
No limitations for shipping agencies,
Easier entry, transit and stay for the crew in the ports.
Over 220 German missions abroad (embassies and consulates) offer support and diplomatic protection for ships and their crew in cases of unjustified detention or other incidents.