Bundesamt für Seeschifffahrt und Hydrographie

Dr. Liliane Rossbach

---
Webcode for this Content:
16639995
Control and inspections
Ship security – administrative offences
Failure to comply with the obligations defined with the "See-Eigensicherungsverordnung" (German Ordinance on Shipboard Security Measures) means an administrative offence which is on cautionary or penalty fining. These obligations include, e.g., that security certificates and documents are carried and security measures according to the approved security plan are implemented on board of the ship.
As the authority in charge the BSH prosecutes and penalises infringements. A  list of fines (BVKatBin-See) has been adopted.
Control
Police control is carried out to enforce the mandatory national and international provisions for security at sea. Generally, the waterway police of a German federal state involved with shipping carries out such control on board of foreign seagoing ships (on the territory of the Federal Republic of Germany) in accordance with  regulation 9 chapter XI-2 SOLAS and section 5 paragraph 1 no. 4b of the "Seeaufgabengesetz" (German Federal Maritime Responsibilities Act) on behalf of the BSH. In individual cases such control is also carried out directly by the BSH.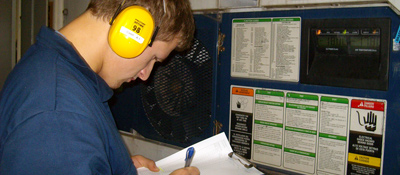 Inspections
The inspections are aimed on the verification of the entire security system on German-flagged seagoing ships. Inspections on a national level are carried out by the personnel of the BSH (flag state administration) in accordance with section A/4.4. of the ISPS-Code and section 8 of the "Seeaufgabengesetz" (German Federal Maritime Responsibilities Act).
On the international level inspections of ships flying the flag of an EU member state are carried out by personnel of the EU Commission on the territory of the EU (incl. EU overseas territories) in accordance with Regulation (EC) no 324/2008 and no 725/2004.
Legal base