Shipping register of sea-going ships
List of shipping registers in Germany
| Location | Shipping register | Address | Phone |
| --- | --- | --- | --- |
| Berlin | Amtsgericht Charlottenburg, Seeschiffsregister (delegated to Amtsgericht Hamburg) | Caffamacherreihe 20, 20355 Hamburg | +49 40 428 43-  32 48 or -28 35 |
| Brake | Amtsgericht Brake, Seeschiffsregister | Bürgermeister-Müller-Straße 34, 26919 Brake | +49 44 01 109-0 |
| Bremen | Amtsgericht Bremen, Seeschiffsregister | Ostertorstraße 25-31, 28195 Bremen | +49 421 361-0 |
| Cuxhaven | Amtsgericht Cuxhaven, Seeschiffsregister | Deichstraße 12a, 27472 Cuxhaven | +49 47 21 50 19-0 |
| Duisburg | Amtsgericht Duisburg-Ruhrort, Seeschiffsregister | Amtsgerichtsstraße 36, 47119 Duisburg | +49 20 38 00 59-0 |
| Emden | Amtsgericht Emden, Seeschiffsregister | Ringstraße 6, 26721 Emden | +49 49 21 951-0 |
| Hamburg | Amtsgericht Hamburg, Seeschiffsregister | Caffamacherreihe 20, 20355 Hamburg | +49 40 428 43-  32 48 or -28 35 |
| Kiel | Amtsgericht Kiel, Seeschiffsregister | Preußerstraße 1-9, 24105 Kiel | +49 431 604-0 |
| Mannheim | Amtsgericht Mannheim, Seeschiffsregister | Bismarckstraße 14, 68159 Mannheim | +49 621 292-0 |
| Regensburg | Amtsgericht Regensburg, Seeschiffsregister | Augustenstraße 3, 93049 Regensburg | +49 941 20 03-0 |
| Rostock | Amtsgericht Rostock, Seeschiffsregister | Zochstraße 13, 18057 Rostock | +49 381 49 57-0 |
| Saarbrücken | Amtsgericht Saarbrücken, Seeschiffsregister | Mainzer Straße 178, 66121 Saarbrücken | +49 681 501-37 52 |
| Stade | Amtsgericht Stade, Seeschiffsregister | Wilhadikirchhof 1, 21682 Stade | +49 41 41 107-1 |
| St. Goar | Amtsgericht St. Goar, Seeschiffsregister | Bismarckweg 3, 56329 St. Goar | +49 67 41 910-0 |
| Wiesbaden | Amtsgericht Wiesbaden, Seeschiffsregister | Mainzer Straße 124, 65189 Wiesbaden | +49 611 3261-0 |
| Wilhelmshaven | Amtsgericht Wilhelmshaven, Seeschiffsregister | Marktstraße 15, 26382 Wilhelmshaven | +49 44 21 75 80-0 |
| Würzburg | Amtsgericht Würzburg, Seeschiffsregister | Ottostraße 5,97070 Würzburg | +49 931 381-0 |
Registration in the shipping register of sea-going ships serves several purposes
Mandatory registration of ships with a length of 15 m and above in the shipping register of sea-going ships serves several purposes:
to disclose the nationality of the shipowner,
to identify the ship,
to register the ownership structure,
to register a possible financial burden of ship mortgages.
Responsible register (district court of home port)
The various shipping registers of ocean-going ships are maintained by district courts, located mainly near the German coastline. Which register (district court) is responsible depends on the home port of the ship. The home port is the place from where the ship's operation is managed, regardless whether the ship calls there regularly or not.
Prerequisites for registration
Details of registration may differ from court to court. Generally the following documents have to be submitted with the application for registration:
International tonnage certificate,
Copy of the bill of sale (for a ship already in service) or shipyard construction certificate (for newbuildings),
Copy of commercial register extract,
Copy of the personal identification document of the managing director of the shipowning company,
On the day of changing flag, deletion certificate from the previous flag registry (for ships already in service).
Some district courts provide specimen application forms for registration.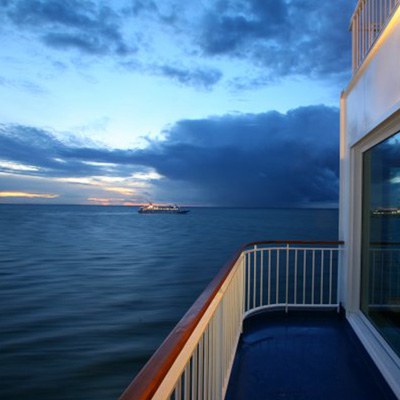 Ships remain registered even when leaving the German flag
German owned sea-going ships remain registered in the German shipping register of sea-going ships when changing temporarily to a foreign flag. In such case the approval for the temporary flying of a foreign flag is recorded in the register. A German owner may operate his ship temporarily under a foreign flag, if he either provides training opportunities or pays a compensation. This is where you can find further information about compensation payment.
Simplified registration at reflagging
Frequently it is not necessary to submit all documents again when changing to the German flag as most Germen owned ships are already registered in a German shipping register and are operated only temporarily under a foreign flag.
Certificate of registry is proof of registration in a shipping register
Proof of registration in a shipping register is the certificate of registry, in special cases also other flag documents. If a ship changes to the German flag when it is abroad, an interim certificate of registry may be issued with a period of validity of 6 months, based on § 5 of the "Flaggenrechtsgesetz" (Law of the Flag Act).
Distinctive number or letters identify a ship
In addition to the certificate of registry, the distinctive number or letters are provided by the shipping register. The distinctive number or letters unambiguously identifies a ship and is at the same time the call sign for maritime radiocommunication. German distinctive number or letters are normally a combination of four letters, starting with "DA" to "DR" and possibly an additional number. Ships with less then 15m hull length which do not have to be listed in the shipping register of ocean-going ships, have a call sign of two letters and four cyphers.
Registration of recreational craft
Recreational craft (i.e. motor and sailing yachts) get either registered in an inland-shipping register or a shipping register of sea-going ships depending on size and trading area of the ship. From 15m hull length a registration in the shipping regiser for sea-going ships and from 10 tons water displacement in an inland-shipping register is mandatory.
Further information can be found on the BSH-website.