Safety Management Manual
The ISM-Code requires the establishment and maintenance of a Safety Management System (SMS). This system must be documented in a manual (either electronically or on paper). A copy of this manual must be placed on board.
Certificates according to the ISM-Code
Two certificates are mandatory under the ISM-Code:
Document of Compliance (DOC).
The DOC is a certificate issued to a shipping company which complies with the requirements of the ISM-Code. The DOC confirms the types of ships which may be operated by the company, e.g., container ships or oil tankers.
Safety Management Certificate (SMC).
The SMC is issued for an individual ship to confirm that the company and its shipboard personnel operate that ship in accordance with the approved safety management system (SMS).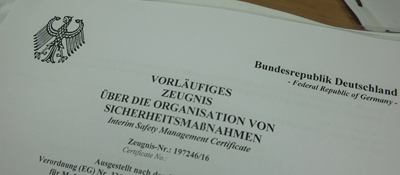 Changing to the German flag generally does not impair the period of validity of previous foreign ISM-certificates
The ship safety division of the BG Verkehr generally adheres to the period of validity of previous foreign ISM-certificates after a change to the German flag, provided the audit reports and port state control data bases do not indicate major deficiencies or safety gaps.