BG Verkehr / Dienststelle Schiffssicherheit

Dr. Philipp Langenbuch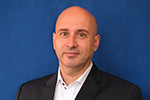 Dr. Jörg Abel

Webcode for this Content:
16534500
Selected health matters
Maritime Medicine comprises many health matters
Ships are an own microcosm: As well as on shore, at work accidents happen and seafarers get sick. In the shipping the diversity of health topics is great: from influences of the UV radiation of the sun to hypothermia of persons fallen over board and up to contagious tropical diseases.
We summarized chosen health topics for you on the following pages.