BG Verkehr / Dienststelle Schiffssicherheit
Brandstwiete 1
20457 Hamburg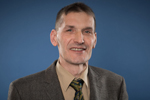 Gerhard Wessels
Phone: +49 40 36137-229
Mail:
gerhard.wessels@bg-verkehr.de
Statutory provisions for nationalities
Provisions for nationalities in manning of German-flagged ships
On merchant ships under German flag, the master always has to be an EU/EEA citizen. The German Safe Manning Ordinance (Schiffsbesetzungsverordnung) stipulates that from a ship size of 8000 GT one officer is an EU/EEA citizen.
Download this overview.
Application for and issuance of the safe manning certificate
Please use our application form if you want to apply for a safe manning certificate. The ship safety division of the BG Verkehr verifies the shipowner's proposal for safe manning of his ship. If the requirements of the German regulation for safe manning are complied with, the ship safety division (not the classification society) will issue the safe manning certificate and forward it directly to the shipowner.