Bundespolizeidirektion Bad Bramstedt
Direktionsbereich Bundespolizei See
Wieksbergstraße 54
23730 Neustadt in Holstein
Piraterie-Präventionszentrum bei der Bundespolizei See
Phone: +49 45 61 40 71 33 33
Mail:
bpol.see.ppz@polizei.bund.de
Preventative measures
Assistance in preventative measures for German shipping companies
Preventative measures play a vital role in the fight against piracy. The piracy-prevention center of the German federal police in Neustadt provides advice for shipping companies on measures to prevent a success of pirate attacks.  These include:
Risk assessments,
Technical measures (passive and active defence),
Principles of behaviour (e.g. "best management practices"),
implementation of ship security plans,
Team training, and
Psychological preparation of crews.
In addition, the piracy-prevention center offers lectures, seminars and workshops as well as individual consultancy and training for German shipping companies. A permanent information exchange between the authorities and shipping companies involved is essential in the fight against piracy. The piracy-prevention center has therefore developed a web-based platform "INFO-Plattform Piraterieprävention" for registered users. For access to this platform please apply to:
Bundespolizeidirektion Bad Bramstedt
Direktionsbereich Bundespolizei See
Piraterie-Präventionszentrum bei der Bundespolizei See
Wieksbergstraße 54
23730 Neustadt in Holstein
24/7 service:
Phone: +49 45 61 4071 – 555
Fax: +49 45 61 4071 33 33
E-Mail: BPOL.SEE.PPZ@polizei.bund.de
Further information and recommendations of various international and national institutions regarding piracy prevention are available on the website of the federal police (Bundespolizei, in German only).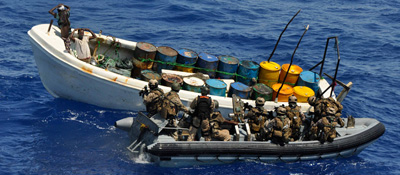 Piracy at the Horn of Africa
A special hotspot of piracy is the Horn of Africa. In this area, Somali pirates capture ships and take crew members hostage. Only months or even years later ship and hostages are released, often only against payment of several million US-dollar. The improved protective measures of ships have, combined with the deployment of warships from many nations, considerably reduced the number of incidents. Nevertheless, the risk level for ships and crews remains high.
The International Maritime Organization (IMO) has, in co-operation with the maritime industry, developed and published strategies and ways to behave for seafarers and shipping companies. These "Best Management Practices" are intended to help ships to avoid, repel or at least delay pirate attacks off the Somali coast, in the Gulf of Aden and in the Arabian Sea.
Most importantly, merchant ships going to pass the Gulf of Aden and the sea area off Somalia are to be reported in good time to the Maritime Security Centre – Horn of Africa (MSCHOA) und to the United Kingdom Maritime Trade Operation (UKMTO) in Dubai, to make them aware of the ship's position and to enable quick military reaction in case of an attack.
For further information on reporting obligations and –formalities please refer to "Reporting obligations" in the context of piracy.