Sebastian Dießner (09/2019)
Sebastian Dießner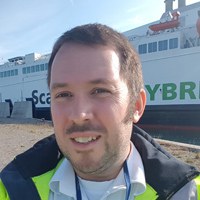 About the person
Organisation:
Verband Deutscher Kapitäne und Schiffsoffiziere, VDKS (Association of German Masters and Ship's Officers)
Scandlines Deutschland GmbH
Position:
Vice president of VDKS
Education and professional career:
Abitur, i.e. general qualification for university entrance
Reserve officer at the German navy
Navigational degree in Elsfleth
Sea service as navigational officer at shipping company Hapaq Lloyd AG, AIDA and Scandlines
At Scandlines Germany GmbH: operation of the ship, member of the construction supervision for the newbuildings "Berlin" and "Copenhagen", specialist for corrosion protection for the company (author of "Handbuch Korrossionschutz in der Seeschifffahrt"), cooperation of nautical and technical inspections as well as purchases for the operative side for large contracts of the shipping company, relevant preparation of requests for proposals for shipyards and surveillance of ships of the shipping company in the shipyard.
Since 2016 Vice President of VDKS.


6 questions about the maritime sector and the German flag