Deutsche Rentenversicherung Knappschaft-Bahn-See
Regionaldirektion Nord
Millerntorplatz 1
20359 Hamburg
Stefanie Bruns
Phone: +49 40 30 388-19 50
Mail:
stefanie.bruns@kbs.de
Notification procedure
Special notification procedure for seafarers
Social security relevant data for each individual employee must be reported to the responsible health insurance fund. The notification procedure is prescribed with the German ordinance for data compilation and transmission (Datenerfassungs- und -übermittlungsverordnung, DEÜV). Special provisions apply to seafarers, whose notifications must also include details about the:
occupational group,
category of ship,
certificate of competency, and
legal basis of insurance (employment on ships registered in the first or second register, insurance by power of an area of the law, insurance on application).
Based on these additional data, the period of insurance is marked in the pension account as sea service to safeguard the entitlement to benefits from the social insurance for seafarers. In addition, the data serve statistical purposes as required by, e.g., the maritime alliance for training and education in ocean shipping ("Maritime Bündnis für Ausbildung und Beschäftigung in der Seeschifffahrt").
For further information on the procedures for notifications and payment of contributions is given on the website of the "Knappschaft" (in German only).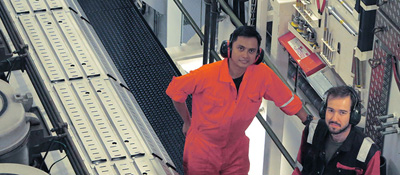 Occupational accidents have to be reported
Employers are required to report occupational accidents of their employees if an accident causes an incapacity for work of more than three days or leads to the passing of the accident victim. There are several ways to report the accident:
More information on the topic can be found under our heading "Accident insurance"