Berufsgenossenschaft Verkehrswirtschaft Post-Logistik Telekommunikation (BG Verkehr)
Geschäftsbereich Prävention
Ottenser Hauptstr. 54
22765 Hamburg
Referat Seeschifffahrt und Fischerei
Phone: +49 40 39802754
Fax: +49 40 39801999
Mail:
seeschifffahrt@bg-verkehr.de
Risk assessment
Employers are responsible for accident prevention
Employers are responsible for occupational health and safety of their employees. They are obliged to introduce all necessary measures and to ensure their continuous development. They must also appoint company doctors and experts for occupational safety, who will support and advise them on all questions regarding occupational health and safety.
Risk assessment
Both, the German occupational health and safety act (Arbeitsschutzgesetz) and the German accident prevention regulation "Principles of Prevention (BGV A1, "Unfallverhütungsvorschrift "Grundsätze der Prävention" ) oblige every employer - independent of the number of his employees - to conduct a risk assessment. In ocean shipping an on-board risk evaluation is prescribed by the international Maritime Labour Convention.
The employer is obliged to identify and assess any risks in his company. The results of the risk assessment, the measures introduced to ensure occupational health and safety as well as the results of their review must be documented. The details of the risk assessment are not specified in the legal provisions.
Employers may conduct the risk assessment themselves or delegate it to other specialists, e.g. to experts for occupational safety or company doctors. The responsibility however, cannot be delegated.
The Federal Institute for Occupational Safety and Health (Bundesanstalt für Arbeitsschutz und Arbeitsmedizin, BAuA) offers further information on risk assessment in general. Relevant advice to ocean shipping companies is provided by the Referat Seeschifffahrt (fisheries and shipping department) of the BG Verkehr. You can find sample risk assessments for certain types of on-board activities on the website of the BG Verkehr.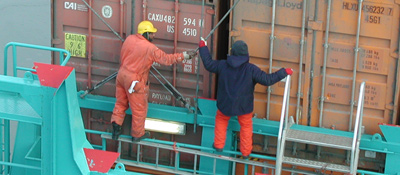 Printed information on occupational health and safety in ocean shipping
The "Geschäftsbereich Prävention" (directorate preventative measures) of the BG Verkehr provides extensive information materials on the management of occupational health and safety on board sea-going ships. In particular the Maritime manual -  occupational health and safety in ocean shipping and fishing ("Handbuch See - Arbeitssicherheit und Gesundheitsschutz in der Seeschifffahrt und Fischerei") contains many appropriate practical hints and tips for everyday situations on board The text of many relevant laws and further information can be found in the "Kompendium Arbeitsschutz".
Further information on management of occupational health and safety on board, on regulations of the German seamen's accident and prevention insurance association, on deployment and use of personal protective equipment, on a safe design of work processes or just generally on safe working and living conditions on board can be found under the following headings on the BG Verkehr website (only in German):